COSRX OIL-FREE ULTRA-MOISTURIZING LOTION 100ml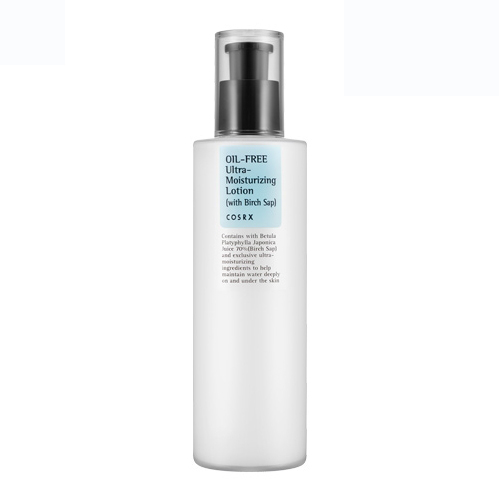 Features
The omnipotent, all-in-one OIL-FREE Ultra-Moisturizing Lotion with Birch Sap is designed to hydrate with excellent spreadability to easily absorb into the skin for a smooth, silky finish.
Perfectly designed for oily, dry, and sensitive skin, the OIL-FREE Ultra-Moisturizing Lotion improves skin reconstruction
while repairing damaged skin to enhance the appearance of your skin tone and texture.
Experience the magic for yourself today and make your skin concerns magically disappear !
Detail

How to use
Day & night, after cleansing, prep the skin with toner and apply a thin layer, avoiding the eyes and lips.
Reapply on areas experiencing severe dryness.
OIL-FREE Ultra-Moisturizing Lotion can be used with all other BHA, AHA or Vitamin C items without skin irritation.
Product info.
Brand : COSRX
All Skin Type
Volume : 100 ml
Made in Korea
Ingredients
none